Γ‰dition du 18 septembre 2014
No 2014 -30
L'heure de vérité pour l'Écosse ! Un référendum d'autodétermination qui suscite un grand intérêt auprès du Québec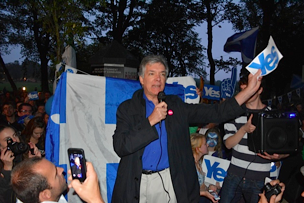 Au parc Meadowns
17 septembre 2014
Je vous salue d'Édimbourg où le scrutin référendaire a commencé avec l'ouverture des bureaux de votation à 7 h ce matin. Il seront ouverts jusqu'à 22 h ce soir et les résultats ne sont attendus qu'à 6 h demain matin. Une participation massive de l'électorat écossais est prévue puisque 97% des personnes habilitées à voter ont procédé à l'enregistrement qui les rendra habiles à exercer leur droit de vote aujourd'hui.
Dans les derniers jours, j'ai été témoin d'une grande effervescence. Elle s'est traduite par des manifestations spontanées dans plusieurs villes d'Écosse. Le député Angus Robertson, qui représenent le Scottish National Party à la Chambre des communes m'a accueilli dans sa circonscription de Moray lundi et je me suis rendu à Glasgow mardi pour assister à une manifestation de YES Scotland sur la place George. Une autres manifestation s'est déroulée hier soir sur les Meadows à Édimbourg et la parole a été donnée aux peuples qui souhaitaient exprimer leur solidarité avec le peuple écossais. Et j'ai le plaisir de prendre la parole et d'inviter la nation écossaise à se dire OUI…et à ouvrir ainsi la voie à l'indépendance d'autres peuples.
Aujourd'hui, j'accompagnerai le président de l'Alliance libre européenne François Alfonsi. Celui-ci a mis en ligne un témoingnage de soutien au droit de décider du peuple écossais que vous pouvez visionner en cliquant ici. Je visiterai plusieurs bureaux de scrutin à Édimbourg ainsi que le siège du Scottish National Party et le bureau de YES Scotland. Et à 17 h 30, je présenterai un « Eye witness report on Scotland from the perspective of Quebec and Catalonia » avec mon collègue et député catalan Josep-Maria Terricabras. Et il faudra patiemment attendre les résultats, vraisemblablement dans un pub écossais.
Avant mon départ demain matin, je vous ferai parvenir le journal d'une journée référendaire. Et vous laisse en vous invitant à prendre connaissance de la lettre fort inspirante qu'adressait le Premier
ANNEXE
Lettre d'Alex Salmond aux électeurs et électrices d'Écosse
17 septembre 2014
Source : http://newsnetscotland.com/index.php/referendum/9759-first-minister-letter-to-voters-qlets-do-thisq
"In these final hours of this historic campaign I want to speak directly to every person in this country who is weighing up the arguments they have heard.
I have no doubt people in Scotland will look past the increasingly desperate and absurd scare stories being generated daily from Downing Street.
Those have no place in a sensible debate.
So in these last days of the greatest campaign Scotland has ever seen, I want to ask you to take a step back from the arguments of politicians and the blizzard of statistics.
For every expert on one side, there is an expert on the other.
For every scare tactic, there is a message of hope, opportunity and possibility.
The opportunity for our Parliament to gain real job creating powers, the ability to protect our treasured National Health Service and the building of a renewed relationship of respect and equality with our friends and neighbours in the rest of these Islands.
But for all that, the talking is nearly done.
The campaigns will have had their say.
What's left is just us - the people who live and work here.
The only people with a vote. The people who matter.
The people who for a few precious hours during polling day hold sovereignty, power, authority in their hands.
It's the greatest most empowering moment any of us will ever have.
Scotland's future - our country in our hands.
What to do? Only each of us knows that.
For my part, I ask only this.
Make this decision with a clear head and a clear conscience.
Know that by voting 'Yes', what we take into our hands is a responsibility like no other- the responsibility to work together to make Scotland the nation it can be
That will require maturity, wisdom, engagement and energy- and it will come not from the usual sources of parties and politicians but from you -the people who have
transformed this moment from another political debate into a wonderful celebration of people power.
Does every Country make mistakes? Yes.
Are there challenges for Scotland to overcome? Undoubtedly.
But my question is this - who better to meet those challenges on behalf of our nation than us?
We must trust ourselves.
Trust each other.
In Scotland we've always had the wealth, the resources and the talent.
We know that with independence we would immediately be in the top twenty of the richest countries in the world.
But what has emerged in this campaign is something very new.
It has changed Scotland forever. I have met it in every community I have been in the last weeks.
Confidence.
Belief.
Empowerment.
An understanding that if we work hard Scotland can be a global success story.
A beacon of economic growth and a champion of social justice.
That's who we are as a nation.
We are the land of Adam Smith who said that no society can flourish and be happy if too many of its people do not benefit from its wealth.
We are the land of Robert Burns who loved Scotland dearly and also celebrated humanity the world o'er.
It's what we can be.
Its why this opportunity is truly historic.
Women and men all over Scotland looking in the mirror and knowing the moment has come.
Our choice, our opportunity, our time.
Wake up on Friday morning to the first day of a better country.
Wake up knowing you did this - you made it happen.
This vote isn't about me, it isn't about the SNP, the Labour Party or the Tories.
It's about you. Your family. Your hopes. Your ambitions.
It's about taking your country's future into your hands.
Don't let this opportunity slip through our fingers.
Don't let them tell us we can't.
Let's do this."
LES AUTRES MOTS DE DANIEL TURP

2019-05-13 β€" 2019-05-06 β€" 2019-04-29 β€" 2019-04-23 β€" 2019-04-15 β€" 2019-04-08 β€" 2019-04-01 β€" 2019-03-25 β€" 2019-03-18 β€" 2019-03-11 β€" 2019-03-04 β€" 2019-02-25 β€" 2019-02-18 β€" 2019-02-11 β€" 2019-02-04 β€" 2019-01-28 β€" 2019-01-21 β€" 2019-01-14 β€" 2019-01-07 β€" 2018-12-24 β€" 2018-12-17 β€" 2018-12-10 β€" 2018-12-03 β€" 2018-11-26 β€" 2018-11-19 β€" 2018-11-12 β€" 2018-11-05 β€" 2018-10-29 β€" 2018-10-22 β€" 2018-10-15 β€" 2018-10-09 β€" 2018-10-01 β€" 2018-09-24 β€" 2018-09-17 β€" 2018-09-10 β€" 2018-09-04 β€" 2018-08-27 β€" 2018-08-20 β€" 2018-08-09 β€" 2018-06-22 β€" 2018-06-18 β€" 2018-06-11 β€" 2018-06-04 β€" 2018-05-28 β€" 2018-05-22 β€" 2018-05-14 β€" 2018-05-07 β€" 2018-04-30 β€" 2018-04-23 β€" 2018-04-16 β€" 2018-04-09 β€" 2018-04-03 β€" 2018-03-26 β€" 2018-03-19 β€" 2018-03-12 β€" 2018-03-05 β€" 2018-02-26 β€" 2018-02-19 β€" 2018-02-12 β€" 2018-02-06 β€" 2018-01-29 β€" 2018-01-22 β€" 2018-01-15 β€" 2018-01-08 β€" 2017-12-22 β€" 2017-12-18 β€" 2017-12-11 β€" 2017-12-04 β€" 2017-11-27 β€" 2017-11-20 β€" 2017-11-13 β€" 2017-11-06 β€" 2017-10-30 β€" 2017-10-23 β€" 2017-10-16 β€" 2017-10-10 β€" 2017-10-02 β€" 2017-09-25 β€" 2017-09-18 β€" 2017-09-11 β€" 2017-09-05 β€" 2017-06-19 β€" 2017-06-12 β€" 2017-06-05 β€" 2017-05-29 β€" 2017-05-22 β€" 2017-05-17 β€" 2017-05-08 β€" 2017-05-01 β€" 2017-04-24 β€" 2017-04-18 β€" 2017-04-10 β€" 2017-04-03 β€" 2017-03-27 β€" 2017-03-20 β€" 2017-03-13 β€" 2017-03-06 β€" 2017-02-27 β€" 2017-02-20 β€" 2017-02-13 β€" 2017-02-06 β€" 2017-01-30 β€" 2017-01-23 β€" 2017-01-16 β€" 2017-01-09 β€" 2017-01-03 β€" 2016-12-23 β€" 2016-12-19 β€" 2016-12-12 β€" 2016-12-05 β€" 2016-11-28 β€" 2016-11-21 β€" 2016-11-14 β€" 2016-11-07 β€" 2016-10-31 β€" 2016-10-24 β€" 2016-10-17 β€" 2016-10-11 β€" 2016-10-03 β€" 2016-09-26 β€" 2016-09-19 β€" 2016-09-12 β€" 2016-09-06 β€" 2016-08-29 β€" 2016-06-24 β€" 2016-06-13 β€" 2016-06-06 β€" 2016-05-30 β€" 2016-05-24 β€" 2016-05-16 β€" 2016-05-09 β€" 2016-05-02 β€" 2016-04-25 β€" 2016-04-18 β€" 2016-04-11 β€" 2016-04-04 β€" 2016-03-29 β€" 2016-03-21 β€" 2016-03-14 β€" 2016-03-07 β€" 2016-02-29 β€" 2016-02-22 β€" 2016-02-15 β€" 2016-02-08 β€" 2016-02-05 β€" 2016-02-01 β€" 2016-01-25 β€" 2016-01-18 β€" 2016-01-11 β€" 2016-01-01 β€" 2015-12-21 β€" 2015-12-14 β€" 2015-11-30 β€" 2015-11-23 β€" 2015-11-16 β€" 2015-11-09 β€" 2015-11-02 β€" 2015-10-26 β€" 2015-10-19 β€" 2015-10-13 β€" 2015-10-05 β€" 2015-09-28 β€" 2015-09-21 β€" 2015-09-14 β€" 2015-09-08 β€" 2015-06-22 β€" 2015-06-17 β€" 2015-06-08 β€" 2015-06-01 β€" 2015-05-25 β€" 2015-05-18 β€" 2015-05-11 β€" 2015-05-04 β€" 2015-04-27 β€" 2015-04-20 β€" 2015-04-13 β€" 2015-04-07 β€" 2015-03-30 β€" 2015-03-23 β€" 2015-03-16 β€" 2015-03-09 β€" 2015-03-02 β€" 2015-02-23 β€" 2015-02-16 β€" 2015-02-09 β€" 2015-02-02 β€" 2015-01-26 β€" 2015-01-19 β€" 2015-01-12 β€" 2015-01-05 β€" 2014-12-22 β€" 2014-12-15 β€" 2014-12-08 β€" 2014-12-01 β€" 2014-11-24 β€" 2014-11-17 β€" 2014-11-10 β€" 2014-11-03 β€" 2014-10-27 β€" 2014-10-20 β€" 2014-10-14 β€" 2014-10-06 β€" 2014-09-30 β€" 2014-09-29 β€" 2014-09-22 β€" 2014-09-15 β€" 2014-09-09 β€" 2014-09-02 β€" 2014-06-23 β€" 2014-06-16 β€" 2014-06-09 β€" 2014-06-02 β€" 2014-05-26 β€" 2014-05-19 β€" 2014-05-12 β€" 2014-05-05 β€" 2014-04-28 β€" 2014-04-22 β€" 2014-04-14 β€" 2014-04-07 β€" 2014-03-31 β€" 2014-03-24 β€" 2014-03-17 β€" 2014-03-10 β€" 2014-03-03 β€" 2014-02-24 β€" 2014-02-17 β€" 2014-02-10 β€" 2014-02-03 β€" 2014-01-27 β€" 2014-01-20 β€" 2014-01-13 β€" 2014-01-06 β€" 2013-12-23 β€" 2013-12-16 β€" 2013-12-09 β€" 2013-12-02 β€" 2013-11-25 β€" 2013-11-18 β€" 2013-11-11 β€" 2013-11-04 β€" 2013-10-28 β€" 2013-10-21 β€" 2013-10-15 β€" 2013-10-07 β€" 2013-09-30 β€" 2013-09-23 β€" 2013-09-16 β€" 2013-09-09 β€" 2013-09-03 β€" 2013-06-24 β€" 2013-06-17 β€" 2013-06-10 β€" 2013-06-03 β€" 2013-05-27 β€" 2013-05-21 β€" 2013-05-13 β€" 2013-05-06 β€" 2013-04-29 β€" 2013-04-22 β€" 2013-04-15 β€" 2013-04-08 β€" 2013-04-02 β€" 2013-03-25 β€" 2013-03-18 β€" 2013-03-11 β€" 2013-03-04 β€" 2013-02-25 β€" 2013-02-18 β€" 2013-02-11 β€" 2013-02-04 β€" 2013-01-28 β€" 2013-01-21 β€" 2013-01-14 β€" 2013-01-07 β€" 2012-12-31 β€" 2012-12-24 β€" 2012-12-17 β€" 2012-12-12 β€" 2012-12-10 β€" 2012-12-03 β€" 2012-11-26 β€" 2012-11-20 β€" 2012-11-12 β€" 2012-11-05 β€" 2012-10-29 β€" 2012-10-22 β€" 2012-10-15 β€" 2012-10-09 β€" 2012-10-01 β€" 2012-09-24 β€" 2012-09-17 β€" 2012-09-10 β€" 2012-09-04 β€" 2012-08-27 β€" 2012-08-01 β€" 2012-06-25 β€" 2012-06-18 β€" 2012-06-11 β€" 2012-06-04 β€" 2012-05-28 β€" 2012-05-22 β€" 2012-05-14 β€" 2012-05-07 β€" 2012-04-30 β€" 2012-04-23 β€" 2012-04-16 β€" 2012-04-10 β€" 2012-04-02 β€" 2012-03-26 β€" 2012-03-19 β€" 2012-03-12 β€" 2012-03-05 β€" 2012-02-27 β€" 2012-02-20 β€" 2012-02-16 β€" 2012-02-13 β€" 2012-02-06 β€" 2012-01-30 β€" 2012-01-23 β€" 2012-01-16 β€" 2012-01-09 β€" 2012-01-06 β€" 2012-01-04 β€" 2011-12-19 β€" 2011-12-15 β€" 2011-12-12 β€" 2011-12-05 β€" 2011-11-28 β€" 2011-11-21 β€" 2011-11-14 β€" 2011-11-07 β€" 2011-10-31 β€" 2011-10-24 β€" 2011-10-17 β€" 2011-10-11 β€" 2011-10-03 β€" 2011-09-26 β€" 2011-09-19 β€" 2011-09-12 β€" 2011-09-06 β€" 2011-08-22 β€" 2011-06-20 β€" 2011-06-13 β€" 2011-06-05 β€" 2011-05-30 β€" 2011-05-23 β€" 2011-05-16 β€" 2011-05-09 β€" 2011-05-03 β€" 2011-04-26 β€" 2011-04-18 β€" 2011-04-11 β€" 2011-04-04 β€" 2011-03-28 β€" 2011-03-21 β€" 2011-03-14 β€" 2011-03-07 β€" 2011-02-21 β€" 2011-02-20 β€" 2011-02-14 β€" 2011-02-12 β€" 2011-02-07 β€" 2011-02-05 β€" 2011-01-31 β€" 2011-01-29 β€" 2011-01-24 β€" 2011-01-22 β€" 2011-01-17 β€" 2011-01-10 β€" 2011-01-03 β€" 2010-12-20 β€" 2010-12-13 β€" 2010-12-06 β€" 2010-11-29 β€" 2010-11-22 β€" 2010-11-15 β€" 2010-11-08 β€" 2010-11-01 β€" 2010-10-25 β€" 2010-10-18 β€" 2010-10-12 β€" 2010-10-04 β€" 2010-09-27 β€" 2010-09-20 β€" 2010-09-13 β€" 2010-09-07 β€" 2010-06-27 β€" 2010-06-24 β€" 2010-06-21 β€" 2010-06-14 β€" 2010-06-07 β€" 2010-05-31 β€" 2010-05-24 β€" 2010-05-17 β€" 2010-05-12 β€" 2010-05-03 β€" 2010-04-27 β€" 2010-04-19 β€" 2010-04-12 β€" 2010-04-06 β€" 2010-03-29 β€" 2010-03-22 β€" 2010-03-15 β€" 2010-03-08 β€" 2010-03-01 β€" 2010-02-22 β€" 2010-02-15 β€" 2010-02-08 β€" 2010-02-01 β€" 2010-01-25 β€" 2010-01-18 β€" 2010-01-11 β€" 2010-01-03 β€" 2009-12-21 β€" 2009-12-15 β€" 2009-12-07 β€" 2009-11-30 β€" 2009-11-23 β€" 2009-11-16 β€" 2009-11-09 β€" 2009-11-02 β€" 2009-10-26 β€" 2009-10-19 β€" 2009-10-13 β€" 2009-10-05 β€" 2009-09-28 β€" 2009-09-21 β€" 2009-09-14 β€" 2009-09-08 β€" 2009-06-30 β€" 2009-06-22 β€" 2009-06-15 β€" 2009-06-08 β€" 2009-06-01 β€" 2009-05-25 β€" 2009-05-18 β€" 2009-05-11 β€" 2009-05-04 β€" 2009-04-27 β€" 2009-04-20 β€" 2009-04-14 β€" 2009-04-06 β€" 2009-03-30 β€" 2009-03-23 β€" 2009-03-16 β€" 2009-03-09 β€" 2009-03-02 β€" 2009-02-23 β€" 2009-02-20 β€" 2009-02-16 β€" 2009-02-09 β€" 2009-02-02 β€" 2009-01-26 β€" 2009-01-19 β€" 2009-01-12 β€" 2009-01-05 β€" 2008-12-22 β€" 2008-12-15 β€" 0000-00-00 β€"