Γ‰dition du 22 septembre 2014
No 2014 -31
Une victoire pour le droit à l'autodétermination en Écosse, un exercice imminent de ce droit par le peuple catalan et un colloque du MNQ sur la mobilisation nationale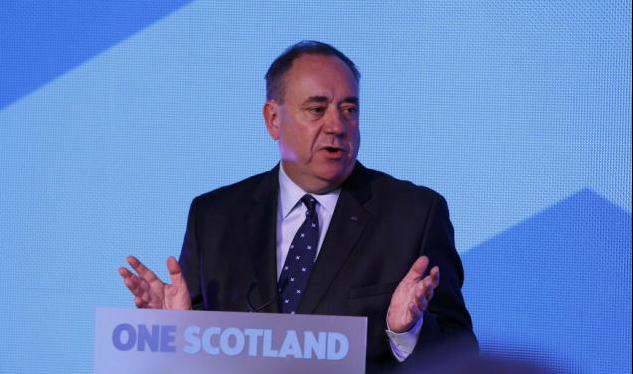 Alex Salmond
Premier ministre d'Écosse
« Concession Speech », 18 septembre 2014
Le peuple écossais n'a pas choisi la voie de l'indépendance nationale lors du référendum du 18 septembre 2014. Il a en revanche exercé son droit à l'autodétermination et s'est vu reconnaître celui de de devenir un État souverain et indépendant. La participation des Écossais et Écossaises au scrutin référendaire a été massive puisque 3 619 915 des 4 283 392 personnes inscrites ont exercé leur droit de vote, le taux de participation s'étant ainsi élevé à 84.5%. Le NON a recueilli 2 001 926 voix (55,3 %) et le OUI 1 617 989 (44,7%). L'écart aura donc été de 383 937 voix (9,6%). Le OUI l'a emporté dans la ville la plus populeuse d'Écosse, Glasgow, le NON ayant quant à lui devancé le OUI dans 28 des 32 régions électorales.
Dans le discours qu'il a prononcé après le dévoilement des résultats et que vous pourrez visonner en cliquant ici, le Premier ministre écossais Alex Salmond a affirmé : « Scotland has, by majority, decided not, at this stage, to become an independent country. I accept that verdict of the people and call on all of Scotland to follow suit in accepting the democratic verdict of the people of Scotland. I think all of us in this campaign will say that 45%, that 1.6 million votes, is a substantial vote for Scottish independence and the future of this country ». La version intégrale de son allocution est accessible ici et est également reproduite en annexe ci-après. Monsieur Salmond a annoncé son intention de quitter des fonctions de chef du Scottish National Party (SNP) et de Premier ministre lors de la Conférence annuelle du SNP en novembre prochain et il est vraisemblable que lui succède l'actuelle Vice-première ministre Nicola Sturgeon.
J'ai eu l'occasion de commenter les résultats du référendum écossais en direct sur les ondes de la BBC le vendredi 19 septembre ainsi qu'à mon retour au Québec dans le cadre de l'émission RDI Matin-Weekend. Pour visionner les échanges que j'ai eus le journaliste Martin Labrosse et mon collègue Guy Lachapelle, je vous invite à cliquer ici. J'ai tenu à indiquer jusqu'à quel point la promesse d'une plus grande « devolution » a pu influer sur le résultat final du référendum et que le non-respect de cette promesse poar les autorités britanniques pourrait rapidement relancer la revendication d'indépendance écossaise.Les journalistes Paolo Veiera et Alistair MacDonald du Wall Street Journal ont fort bien rapporté mes propos en publiant le 20 septembre 2014 un article intitulé « Scottish Independence Issue May Return, Quebec Separatists Warn ».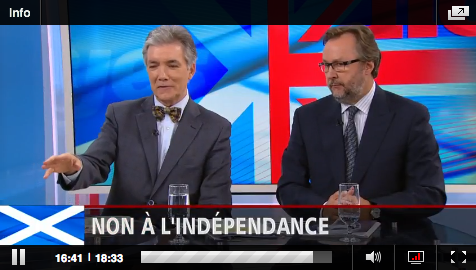 Daniel Turp et Guy Lachapelle
RDI-Matin Weekend, 20 septembre 2014
Pendant la journée du 18 septembre 2014, j'ai visité plusieurs bureaux de scrutin à Édimbourg ainsi que le bureau de YES Scotland en compagnie du président de l'Alliance libre européenne François Alfonsi. J'ai pu présenter un « Eye witness report on Scotland from the perspective of Quebec and Catalonia » avec mon collègue et député catalan Josep-Maria Terricabras, comme en fait la photographie ci-après :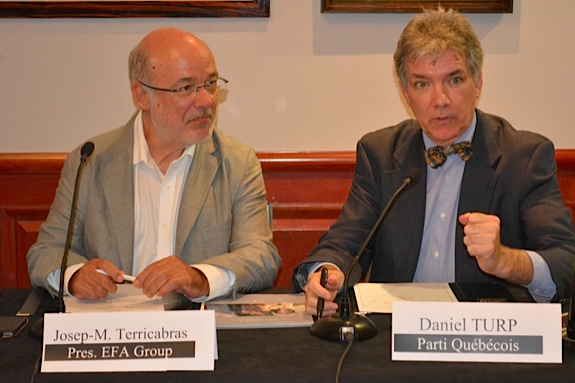 Josep Terricabras et Daniel Turp
Édimbour, Écosse, 18 septembre 2014
Et l'exercice imminent du droit à l'autodétermination par le peuple catalan ?
Et pendant ce temps, le Parlement catalan a adopté le vendredi 19 septembre 2014, et ce par une majorité de 78,5 % des voix de ses membres (106 pour et 28 contre), la Llei de consultes populars no referendàries i participació ciutadana (Loi sur la consultation populaire et la participation citoyenne). Vous trouverez le texte de la proposition de loi présentée le 17 juillet 2014 en cliquant ici et vous pourrez visionner ici les débats ayant mené à son adoption.
L'adoption de cette loi ouvre la voie à l'organisation d'un référendum sur le statut politique de la Catalogue que le président Artur Mas a rappelé vouloir tenir le dimanche 9 novembre 2014. Elle devrait être suivie dans les prochains jours d'un décret autorisant la tenue d'un tel référendum dont la légalité pourrait être contestée, comme celle de la loi référendaire, devant le Tribunal constitutionnel espagnol par le gouvernement de Mariano Rajoy. Je suivrai avec intérêt les développements en Catalogne durant la prochaine semaine et vous en rapporterai la teneur bientôt.

Vote au Parlement catalan
19 septembre 2014
Une activité du Mouvement national des Québécoises et Québécois (MNQ) sur le thème de la mobilisation nationale
Dans le cadre de sont Université d'été qui aura lieu à Orford les 26, 27 et 28 septembre 2014 dont le thème sera « La mobilisation nationale et le rôle du MNQ », je participerai à une séance consacrée à la question de l'indépendance à travers le monde, et plus particulièrement à la lumière deux référendums à venir en Écosse et Catalogne. J'ai intitulé provisoirement ma communication « La mobilisation pour l'indépendance nationale en Écosse, en Catalogne et au Québec : de la consultation populaire à la démarche constituante ».
Je chercherai à y préciser les idées que j'ai présentées dans le cadre d'un panel sur la « Démarche indépendantiste : vers un renouvellement » organisé par le Rassemblement citoyen pour l'indépendance « DestiNation » auquel j'ai pris part à mon retour d'Écosse le samedi 20 septembre 2014. Cet événement est d'ailleurs présenté dans un article publié dans Le Devoir de ce matin comme un « Premier pas pour un grand chantier » et s'est conclu par l'annonce que le Conseil de la souveraineté deviendrait les Organisations unies pour l'indépendance du Québec (OUI-Québec).

*****
Je vous souhaite un agréable début d'automne car l'été prend fin au Québec en ce 22/09 à 22:09 !
ANNEXE
Alex Salmond
First Minister of Scotland
Concession speech
Edinburgh
September 19

Can I say thank-you for that reception but above all thank-you to Scotland for 1.6 million votes for Scottish independence. Our friends in the Highlands of Scotland are still to speak so the final results aren't in, but we know there is going to be a majority for the No campaign.
It is important to say that our referendum was an agreed and consented process and Scotland has by a majority decided not, at this stage, to become an independent country. I accept that verdict of the people and I call on all of Scotland to follow suit in accepting the democratic verdict of the people of Scotland.
I think all of us in this campaign will say that 45%, that 1.6 million votes, is a substantial vote for Scottish independence and the future of this country. Let us say something which I hope unites all campaigns and all Scots. I think the process by which we have made our decision as a nation reflects enormous credit upon Scotland.
A turnout of 86% is one of the highest in the democratic world for any election or any referendum in history. This has been a triumph for the democratic process and for participation in politics. For example, the initiative by which our 16 and 17-year-olds were able to vote has proved to be a resounding success. I suspect no-one will ever again dispute their right and ability to participate fully and responsibly in democratic elections.
So we now face the consequences of Scotland's decision. Firstly, clause 30 of the Edinburgh Agreement is now in operation. On behalf of the Scottish Government I accept the result and I pledge to work constructively in the interests of Scotland and the rest of the United Kingdom. Secondly, the unionist parties made vows late in the campaign to devolve more powers to Scotland. Scotland will expect these to be honoured in rapid course. As a reminder, we have been promised a second reading of a Scotland Bill by March 27 next year. Not just the 1.6 million Scots who participated in that referendum will demand that timetable is followed but all Scots who participated in this referendum will demand that timetable is followed.
I'll be speaking to the Prime Minister shortly after this statement and I have a press conference later today to reflect on that and the full result. But can I return, thirdly, to the empowerment of so many Scots entering the political process for the very first time. It is something that is so valuable it has to be cherished, preserved and built upon. I've said it a number of times in this campaign that the most moving thing I saw was the queue of people in Dundee two or three weeks ago, patiently waiting to register to vote - most of them for the first time ever, deciding to participate in the democratic process. Today in Inverurie I met a 61-year-old lady just coming out of the polling station who had never voted before in her life. I met a soldier, a former soldier, who hadn't voted since he'd left the Army some 24 years ago. These people were inspired to enter the democratic politics by the thought that they could make a difference in building something better for the country. These are people who all of us, as we campaigned, have met and been inspired by and all of us are a part of all of that experience that we have encountered.
Whatever else we can say about this referendum campaign, we have touched sections of the community who have never before been touched by politics, these sections of the community have touched us and touched the political process. I don't think that will ever be allowed to go back to business as usual in politics again.
Friends, sometimes it is best to reflect where we are in a journey. 45%, 1.6 million of our fellow citizens voting for independence. I don't think any of us, whenever we entered politics, would have thought such a thing to be either credible or possible. Over the last few weeks we have seen a scare and a fear of enormous proportions - not a scaremongering directed at the Scottish people but the scare and the fear at the heart of the Westminster establishment as they realise the mass movement of people that was going forward in Scotland.
Today of all days as we bring Scotland together, let us not dwell on the distance we have fallen short, let us dwell on the distance we have travelled and have confidence that the movement is abroad in Scotland that will take this nation forward and we shall go forward as one nation.
LES AUTRES MOTS DE DANIEL TURP

2019-05-13 β€" 2019-05-06 β€" 2019-04-29 β€" 2019-04-23 β€" 2019-04-15 β€" 2019-04-08 β€" 2019-04-01 β€" 2019-03-25 β€" 2019-03-18 β€" 2019-03-11 β€" 2019-03-04 β€" 2019-02-25 β€" 2019-02-18 β€" 2019-02-11 β€" 2019-02-04 β€" 2019-01-28 β€" 2019-01-21 β€" 2019-01-14 β€" 2019-01-07 β€" 2018-12-24 β€" 2018-12-17 β€" 2018-12-10 β€" 2018-12-03 β€" 2018-11-26 β€" 2018-11-19 β€" 2018-11-12 β€" 2018-11-05 β€" 2018-10-29 β€" 2018-10-22 β€" 2018-10-15 β€" 2018-10-09 β€" 2018-10-01 β€" 2018-09-24 β€" 2018-09-17 β€" 2018-09-10 β€" 2018-09-04 β€" 2018-08-27 β€" 2018-08-20 β€" 2018-08-09 β€" 2018-06-22 β€" 2018-06-18 β€" 2018-06-11 β€" 2018-06-04 β€" 2018-05-28 β€" 2018-05-22 β€" 2018-05-14 β€" 2018-05-07 β€" 2018-04-30 β€" 2018-04-23 β€" 2018-04-16 β€" 2018-04-09 β€" 2018-04-03 β€" 2018-03-26 β€" 2018-03-19 β€" 2018-03-12 β€" 2018-03-05 β€" 2018-02-26 β€" 2018-02-19 β€" 2018-02-12 β€" 2018-02-06 β€" 2018-01-29 β€" 2018-01-22 β€" 2018-01-15 β€" 2018-01-08 β€" 2017-12-22 β€" 2017-12-18 β€" 2017-12-11 β€" 2017-12-04 β€" 2017-11-27 β€" 2017-11-20 β€" 2017-11-13 β€" 2017-11-06 β€" 2017-10-30 β€" 2017-10-23 β€" 2017-10-16 β€" 2017-10-10 β€" 2017-10-02 β€" 2017-09-25 β€" 2017-09-18 β€" 2017-09-11 β€" 2017-09-05 β€" 2017-06-19 β€" 2017-06-12 β€" 2017-06-05 β€" 2017-05-29 β€" 2017-05-22 β€" 2017-05-17 β€" 2017-05-08 β€" 2017-05-01 β€" 2017-04-24 β€" 2017-04-18 β€" 2017-04-10 β€" 2017-04-03 β€" 2017-03-27 β€" 2017-03-20 β€" 2017-03-13 β€" 2017-03-06 β€" 2017-02-27 β€" 2017-02-20 β€" 2017-02-13 β€" 2017-02-06 β€" 2017-01-30 β€" 2017-01-23 β€" 2017-01-16 β€" 2017-01-09 β€" 2017-01-03 β€" 2016-12-23 β€" 2016-12-19 β€" 2016-12-12 β€" 2016-12-05 β€" 2016-11-28 β€" 2016-11-21 β€" 2016-11-14 β€" 2016-11-07 β€" 2016-10-31 β€" 2016-10-24 β€" 2016-10-17 β€" 2016-10-11 β€" 2016-10-03 β€" 2016-09-26 β€" 2016-09-19 β€" 2016-09-12 β€" 2016-09-06 β€" 2016-08-29 β€" 2016-06-24 β€" 2016-06-13 β€" 2016-06-06 β€" 2016-05-30 β€" 2016-05-24 β€" 2016-05-16 β€" 2016-05-09 β€" 2016-05-02 β€" 2016-04-25 β€" 2016-04-18 β€" 2016-04-11 β€" 2016-04-04 β€" 2016-03-29 β€" 2016-03-21 β€" 2016-03-14 β€" 2016-03-07 β€" 2016-02-29 β€" 2016-02-22 β€" 2016-02-15 β€" 2016-02-08 β€" 2016-02-05 β€" 2016-02-01 β€" 2016-01-25 β€" 2016-01-18 β€" 2016-01-11 β€" 2016-01-01 β€" 2015-12-21 β€" 2015-12-14 β€" 2015-11-30 β€" 2015-11-23 β€" 2015-11-16 β€" 2015-11-09 β€" 2015-11-02 β€" 2015-10-26 β€" 2015-10-19 β€" 2015-10-13 β€" 2015-10-05 β€" 2015-09-28 β€" 2015-09-21 β€" 2015-09-14 β€" 2015-09-08 β€" 2015-06-22 β€" 2015-06-17 β€" 2015-06-08 β€" 2015-06-01 β€" 2015-05-25 β€" 2015-05-18 β€" 2015-05-11 β€" 2015-05-04 β€" 2015-04-27 β€" 2015-04-20 β€" 2015-04-13 β€" 2015-04-07 β€" 2015-03-30 β€" 2015-03-23 β€" 2015-03-16 β€" 2015-03-09 β€" 2015-03-02 β€" 2015-02-23 β€" 2015-02-16 β€" 2015-02-09 β€" 2015-02-02 β€" 2015-01-26 β€" 2015-01-19 β€" 2015-01-12 β€" 2015-01-05 β€" 2014-12-22 β€" 2014-12-15 β€" 2014-12-08 β€" 2014-12-01 β€" 2014-11-24 β€" 2014-11-17 β€" 2014-11-10 β€" 2014-11-03 β€" 2014-10-27 β€" 2014-10-20 β€" 2014-10-14 β€" 2014-10-06 β€" 2014-09-30 β€" 2014-09-29 β€" 2014-09-18 β€" 2014-09-15 β€" 2014-09-09 β€" 2014-09-02 β€" 2014-06-23 β€" 2014-06-16 β€" 2014-06-09 β€" 2014-06-02 β€" 2014-05-26 β€" 2014-05-19 β€" 2014-05-12 β€" 2014-05-05 β€" 2014-04-28 β€" 2014-04-22 β€" 2014-04-14 β€" 2014-04-07 β€" 2014-03-31 β€" 2014-03-24 β€" 2014-03-17 β€" 2014-03-10 β€" 2014-03-03 β€" 2014-02-24 β€" 2014-02-17 β€" 2014-02-10 β€" 2014-02-03 β€" 2014-01-27 β€" 2014-01-20 β€" 2014-01-13 β€" 2014-01-06 β€" 2013-12-23 β€" 2013-12-16 β€" 2013-12-09 β€" 2013-12-02 β€" 2013-11-25 β€" 2013-11-18 β€" 2013-11-11 β€" 2013-11-04 β€" 2013-10-28 β€" 2013-10-21 β€" 2013-10-15 β€" 2013-10-07 β€" 2013-09-30 β€" 2013-09-23 β€" 2013-09-16 β€" 2013-09-09 β€" 2013-09-03 β€" 2013-06-24 β€" 2013-06-17 β€" 2013-06-10 β€" 2013-06-03 β€" 2013-05-27 β€" 2013-05-21 β€" 2013-05-13 β€" 2013-05-06 β€" 2013-04-29 β€" 2013-04-22 β€" 2013-04-15 β€" 2013-04-08 β€" 2013-04-02 β€" 2013-03-25 β€" 2013-03-18 β€" 2013-03-11 β€" 2013-03-04 β€" 2013-02-25 β€" 2013-02-18 β€" 2013-02-11 β€" 2013-02-04 β€" 2013-01-28 β€" 2013-01-21 β€" 2013-01-14 β€" 2013-01-07 β€" 2012-12-31 β€" 2012-12-24 β€" 2012-12-17 β€" 2012-12-12 β€" 2012-12-10 β€" 2012-12-03 β€" 2012-11-26 β€" 2012-11-20 β€" 2012-11-12 β€" 2012-11-05 β€" 2012-10-29 β€" 2012-10-22 β€" 2012-10-15 β€" 2012-10-09 β€" 2012-10-01 β€" 2012-09-24 β€" 2012-09-17 β€" 2012-09-10 β€" 2012-09-04 β€" 2012-08-27 β€" 2012-08-01 β€" 2012-06-25 β€" 2012-06-18 β€" 2012-06-11 β€" 2012-06-04 β€" 2012-05-28 β€" 2012-05-22 β€" 2012-05-14 β€" 2012-05-07 β€" 2012-04-30 β€" 2012-04-23 β€" 2012-04-16 β€" 2012-04-10 β€" 2012-04-02 β€" 2012-03-26 β€" 2012-03-19 β€" 2012-03-12 β€" 2012-03-05 β€" 2012-02-27 β€" 2012-02-20 β€" 2012-02-16 β€" 2012-02-13 β€" 2012-02-06 β€" 2012-01-30 β€" 2012-01-23 β€" 2012-01-16 β€" 2012-01-09 β€" 2012-01-06 β€" 2012-01-04 β€" 2011-12-19 β€" 2011-12-15 β€" 2011-12-12 β€" 2011-12-05 β€" 2011-11-28 β€" 2011-11-21 β€" 2011-11-14 β€" 2011-11-07 β€" 2011-10-31 β€" 2011-10-24 β€" 2011-10-17 β€" 2011-10-11 β€" 2011-10-03 β€" 2011-09-26 β€" 2011-09-19 β€" 2011-09-12 β€" 2011-09-06 β€" 2011-08-22 β€" 2011-06-20 β€" 2011-06-13 β€" 2011-06-05 β€" 2011-05-30 β€" 2011-05-23 β€" 2011-05-16 β€" 2011-05-09 β€" 2011-05-03 β€" 2011-04-26 β€" 2011-04-18 β€" 2011-04-11 β€" 2011-04-04 β€" 2011-03-28 β€" 2011-03-21 β€" 2011-03-14 β€" 2011-03-07 β€" 2011-02-21 β€" 2011-02-20 β€" 2011-02-14 β€" 2011-02-12 β€" 2011-02-07 β€" 2011-02-05 β€" 2011-01-31 β€" 2011-01-29 β€" 2011-01-24 β€" 2011-01-22 β€" 2011-01-17 β€" 2011-01-10 β€" 2011-01-03 β€" 2010-12-20 β€" 2010-12-13 β€" 2010-12-06 β€" 2010-11-29 β€" 2010-11-22 β€" 2010-11-15 β€" 2010-11-08 β€" 2010-11-01 β€" 2010-10-25 β€" 2010-10-18 β€" 2010-10-12 β€" 2010-10-04 β€" 2010-09-27 β€" 2010-09-20 β€" 2010-09-13 β€" 2010-09-07 β€" 2010-06-27 β€" 2010-06-24 β€" 2010-06-21 β€" 2010-06-14 β€" 2010-06-07 β€" 2010-05-31 β€" 2010-05-24 β€" 2010-05-17 β€" 2010-05-12 β€" 2010-05-03 β€" 2010-04-27 β€" 2010-04-19 β€" 2010-04-12 β€" 2010-04-06 β€" 2010-03-29 β€" 2010-03-22 β€" 2010-03-15 β€" 2010-03-08 β€" 2010-03-01 β€" 2010-02-22 β€" 2010-02-15 β€" 2010-02-08 β€" 2010-02-01 β€" 2010-01-25 β€" 2010-01-18 β€" 2010-01-11 β€" 2010-01-03 β€" 2009-12-21 β€" 2009-12-15 β€" 2009-12-07 β€" 2009-11-30 β€" 2009-11-23 β€" 2009-11-16 β€" 2009-11-09 β€" 2009-11-02 β€" 2009-10-26 β€" 2009-10-19 β€" 2009-10-13 β€" 2009-10-05 β€" 2009-09-28 β€" 2009-09-21 β€" 2009-09-14 β€" 2009-09-08 β€" 2009-06-30 β€" 2009-06-22 β€" 2009-06-15 β€" 2009-06-08 β€" 2009-06-01 β€" 2009-05-25 β€" 2009-05-18 β€" 2009-05-11 β€" 2009-05-04 β€" 2009-04-27 β€" 2009-04-20 β€" 2009-04-14 β€" 2009-04-06 β€" 2009-03-30 β€" 2009-03-23 β€" 2009-03-16 β€" 2009-03-09 β€" 2009-03-02 β€" 2009-02-23 β€" 2009-02-20 β€" 2009-02-16 β€" 2009-02-09 β€" 2009-02-02 β€" 2009-01-26 β€" 2009-01-19 β€" 2009-01-12 β€" 2009-01-05 β€" 2008-12-22 β€" 2008-12-15 β€" 0000-00-00 β€"